Carmen's Story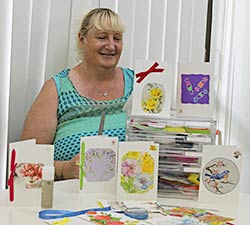 I have been a member of Jacaranda Clubhouse since June 2012, having being recommended by my mentor Alyssa from Open Minds.
During the orientation I felt good vibes about this place. All the staff and members were friendly. I was nervous at first but determined to give it a go. I started off in the Food Service Unit (FSU) but soon after began in the Business Service Unit (BSU). My computer skills were obsolete so I had to learn how to use them all over again. I hadn't done much typing since I left work back in 1995.
Over the past year I have accomplished most of the tasks associated with BSU and have become a Unit Leader. I feel like I am really working again even though I don't get paid for it.
I haven't felt this good for nearly twenty years. I have a lot more confidence now and feel some self-worth. Everyone is lovely and now I feel like I finally fit in somewhere whereas that has never happened before.
Eventually I became a member representative. Nicky and I went to Sydney for a conference in March. I can't remember a time when I had so much fun. Nicky is a terrific person.
I would recommend the clubhouse to anybody. Just give it a try and see how it goes. It changed my life for the better dramatically.