Fountain House, the first clubhouse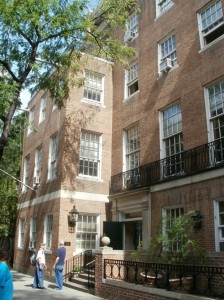 Fountain House, the first "clubhouse," opened in New York City in 1948. Fountain House was established as an international community for men and women who had histories of psychiatric illness, and was unique in the world of mental health in many important ways. Unlike other programs for men and women with mental illness, Fountain House was founded upon the premise that regardless of mental illness, clubhouse "members" could work productively and have socially satisfying lives. Fountain House also clearly distinguished itself from other programs by its insistence that members and staff work together, side-by-side, as peers and partners, in every function of the clubhouse operation.
For nearly thirty years, Fountain House was alone in this way of working. It was considered a naive, if not radical notion that people with mental illness could benefit by a program based on rehabilitation, community, and mutually reciprocal relationships with staff. The mental health establishment continued to base mental health programs on the medical model, in which the professional' role was to repair the pathology of the "patient." This model served to cast people into the role of patient, making it difficult to experience themselves as whole human beings who are more than simply "mentally ill." Fountain House, on the other hand, consciously created a community in which the staff constantly need to seek out members' strengths and talents to run the clubhouse successfully.
The beginning of clubhouse training and the replication of the model
In 1977 Fountain House was awarded a multiyear grant from the National Institute of Mental Health to establish a national training program on the Clubhouse Model. The training is a three-week immersion into the clubhouse culture, with daily discussions to clarify clubhouse practice. By 1987, there were 220 clubhouses in the United States. In addition, clubhouses had been developed in Pakistan, Sweden, Denmark, Germany, Holland, Canada, and South Africa. During this time, it became clear that the clubhouse model could be replicated anywhere – that the culture of clubhouse communities transcended national, ethnic, and cultural boundaries – as it was based on universal human values.
The Faculty for Clubhouse Development
Although three-week clubhouse training was enormously successful, it was clear that it simply was not enough. Groups would return from training, and have no way to assess their success at building a clubhouse and no access to on-site assistance and consultation. As part of the National Clubhouse Expansion Program, the Faculty for Clubhouse Development was established to address this need. The Faculty was created by drawing both staff and members from strong clubhouses, who would be charged with going out in member/staff teams to visit and consult with clubhouses. This consultation process was greatly strengthened by the completion of a Self-Study, which the clubhouse prepared prior to the arrival of the consulting team.
The creation of the International Center for Clubhouse Development
Today, clubhouse consultation/certification is fully international, and the Faculty for Clubhouse Development has been expanded to include members and staff from clubhouses around the globe. All of the structures and working groups that had been outlined by the Steering Committee have been realized.  The ICCD today is a rapidly growing organization, helping clubhouses to help one another throughout the world.